Lot 224: Herero Secret (Dynasty – Welwitschia) | Image: Candiese Lenferna

Current and former Ridgemont Highlands stallions dominated proceedings at the recently concluded August Two Year Old Sale.
Not only did former resident sire Dynasty provide the top lot sold at the two day auction, but Ridgemont Highlands' current star stallion Rafeef proved all the rage, with Rafeef sired two-year-olds setting the sales ring alight.
Ridgemont's late, great stallion Dynasty has had a phenomenal influence on the South African sales ring and the former July winning champion was at it again at this year's August Two Year Old Sale.
The sire of 78 black type winners headed by champions Futura, Irish Flame and Legislate, Dynasty's son Herero Secret topped the August Sale when he was knocked down to Form Bloodstock for R1.2 million. The blue blooded colt (above) is a full-brother to Dynasty's very exciting daughter Desert Miracle, a devastating winner of last season's G2 Zulu Kingdom Explorer Golden Slipper.
Dynasty had just three lots on offer, and all three sold for an aggregate of R1.72 million, giving Dynasty the impressive average for the sale of R573 333.
Rafeef (Redoute's Choice – National Colour)

Former G1 Computaform Sprint winner Rafeef has made a superb start to his stud career, and his ongoing success was reflected in the results of the 2021 August Two Year Old Sale.
Rafeef had some outstanding results at the August Sale, and ended the two day auction as the second Leading Sire by Aggregate.
The son of Redoute's Choice had all his 11 two-year-olds on offer sell for an aggregate of R3.705 million, with Rafeef two-year-olds averaging a most respectable R336 818 (in comparison, the sales' overall average price was R143 054.
Rafeef had two two-year-olds fetch R500 000 apiece, with his daughter Glittering Girl (Lot 88) (pictured above) knocked down to Vermaak Equine, and his son Marquez (Lot 79) also fetching R500 000 when sold to Arun Chadha.
Closely inbred to Redoute's Choice, Glittering Girl is a full-sister to Bloodstock SA Cape Yearling Sale Cup heroine Mounia, while Marquez is a full-brother to the talented, Ridgemont Highlands bred and sold William Robertson – a leading G1 hope for the season ahead.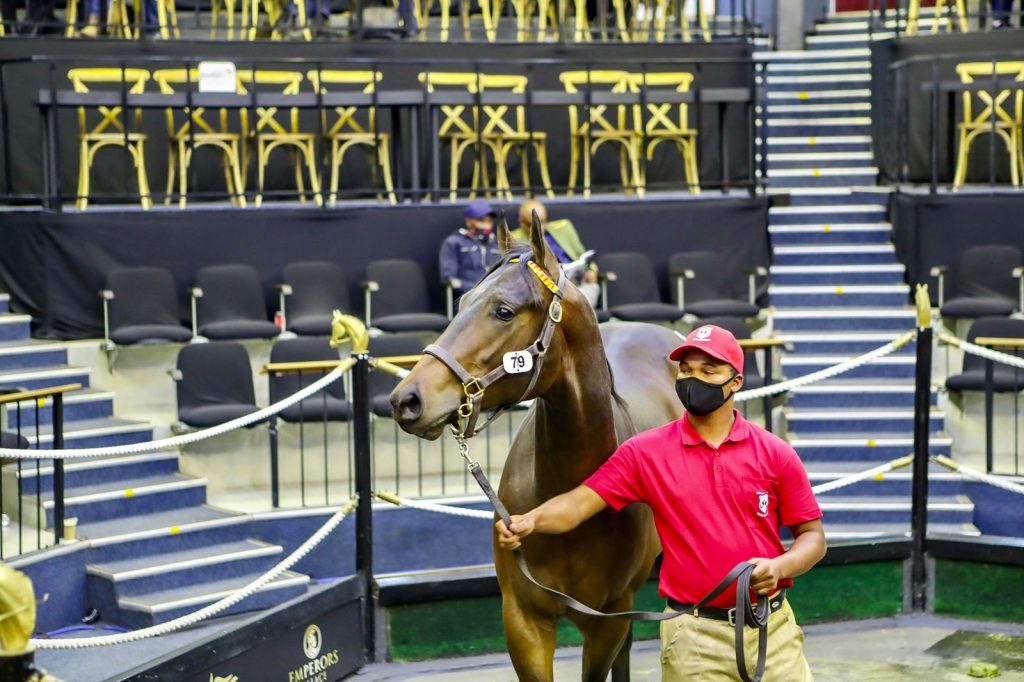 Lot 79: Marquez (Rafeef – Massachusetts) | Image: Candiese Lenferna
Lot 88: Glittering Girl (Rafeef – Modern Muse) | Image: Candiese Lenferna
Other lots by Rafeef to prove popular included Morgan Le Fay (sold to Sandy Arundel for R450 000), Lord Brooktree (knocked down to the Hollywood Syndicate for R400 000), and Mover And Shaker (sold to Fabian Habib for R400 000).
Lot 124: Action Zone (Canford Cliffs – Private Dancer) | Image: Candiese Lenferna

Five time G1-winning sire Canford Cliffs, whose first South African crop are two, proved highly sought after with five two-year-old's selling with Thomas Mason purchasing the Canford Cliffs colt (Lot 124) Action Zone for R170 000, while  R150 000 was paid by MGAS Bloodstock for Cantilver Spring (Lot 186).