[et_pb_section bb_built="1″ fullwidth="off" specialty="off"][et_pb_row][et_pb_column type="4_4″][et_pb_text use_border_color="off" background_position="top_left" background_repeat="repeat" background_size="initial" _builder_version="3.17.6″]
The Turffontein Derby Day feature programme got off to a rough start for the big guns when the Potala Palace R15 000 purchase Palace Of Dreams lived up to her name when dashing through late to win the R200 000 Gr3 Pretty Polly Stakes.
A first stakes winner for Ridgemont Highlands based Gr1 winner Potala Palace, Palace Of Dreams turned on the jets at the 200m as the leading group of the more fancied Fly Away and Gin Fizz started buckling under their exertions.
With a contemptuous glance to each side, Ryan Munger registered a personal 100th winner of the season and swept clear in style to beat the Ruffian Stakes runner-up and favourite Gin Fizz by a half length in a time of 64,84 secs, with Emerald Tiara staying on quietly for third,
Bred by Highlands, Palace Of Dreams is by Potala Palace (Singspiel) out of the Spectrum maiden Cheery Berry Bim.
She is the first stakes winner for her Gr1 winning sire Potala Palace, a son of world champion racehorse and top sire Singspiel. The latter is responsible for numerous high class performers, including champion Solow, Breeders' Cup winner Lahudood and French Oaks winner Confidential Lady.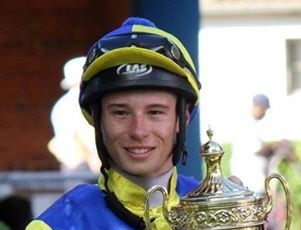 Potala Palace, who is from the same family as the likes of Fairy King, Nureyev, Reform and Sadler's Wells, earned over R600 000 on the track and won both the Gr1 Premier's Champion Stakes and Gr3 Joburg Spring Challenge Stakes when trained by Mike Azzie.
She cost just R15 000 at the BSA National 2yo Sale and made it an eyecatching first win and 2 places from 3 starts for stakes of R170 000.
Trainer Romeo Francis also owns the talented speedster and can take a bow for achieving a Gr3 win out of his small string.
_________
Gr3 Pretty Polly Stakes (SAf-Gr3)
Turffontein, South Africa, March 30, R200k, 1100m, turf, good, 1.04.84
1 – PALACE OF DREAMS (SAF), 57.0, b f 2, Potala Palace (SAF) – Cheery Berry Bim (SAF) by Spectrum (IRE). Owner Mr R Francis; Breeder Highlands; trainer R Francis; jockey R Munger
2 – Gin Fizz (SAF), 60.0, b f 2, Soft Falling Rain (SAF) – Espumanti (GB) by Dansili (GB)
3 – Emerald Tiara (SAF), 60.0, b f 2, Gimmethegreenlight (AUS) – Jewel In Her Crown (SAF) by Jallad (USA)
Margins: 0.50, 0.25, 3.80
– Sporting Post
[/et_pb_text][et_pb_post_slider posts_number="6″ include_categories="25,27,3″ orderby="date_desc" content_source="off" use_manual_excerpt="on" excerpt_length="55″ show_arrows="on" show_pagination="on" show_more_button="on" show_meta="off" show_image="off" image_placement="left" background_position="default" background_size="default" remove_inner_shadow="off" use_bg_overlay="on" use_text_overlay="off" parallax="off" parallax_method="off" background_layout="dark" meta_letter_spacing="0″ custom_button="off" button_letter_spacing="0″ button_use_icon="default" button_icon_placement="right" button_on_hover="on" button_letter_spacing_hover="0″ auto="on" auto_ignore_hover="off" hide_content_on_mobile="off" hide_cta_on_mobile="off" show_image_video_mobile="off" bg_overlay_color="#da291c" auto_speed="2500″ custom_css_main_element="height: 300px;" top_padding="60px" bottom_padding="-80px" custom_padding="60px|0px|-80px|0px" custom_padding_tablet="|||" custom_padding_phone="|||" show_inner_shadow="on" show_content_on_mobile="on" show_cta_on_mobile="on" box_shadow_horizontal="0px" box_shadow_vertical="0px" box_shadow_blur="10px" box_shadow_spread="0px" box_shadow_position="inner" box_shadow_color="rgba(0,0,0,0.1)" box_shadow_style="preset6″ background_color="#2ea3f2″ button_text_size__hover_enabled="off" button_text_size__hover="null" button_one_text_size__hover_enabled="off" button_one_text_size__hover="null" button_two_text_size__hover_enabled="off" button_two_text_size__hover="null" button_text_color__hover_enabled="off" button_text_color__hover="null" button_one_text_color__hover_enabled="off" button_one_text_color__hover="null" button_two_text_color__hover_enabled="off" button_two_text_color__hover="null" button_border_width__hover_enabled="off" button_border_width__hover="null" button_one_border_width__hover_enabled="off" button_one_border_width__hover="null" button_two_border_width__hover_enabled="off" button_two_border_width__hover="null" button_border_color__hover_enabled="off" button_border_color__hover="null" button_one_border_color__hover_enabled="off" button_one_border_color__hover="null" button_two_border_color__hover_enabled="off" button_two_border_color__hover="null" button_border_radius__hover_enabled="off" button_border_radius__hover="null" button_one_border_radius__hover_enabled="off" button_one_border_radius__hover="null" button_two_border_radius__hover_enabled="off" button_two_border_radius__hover="null" button_letter_spacing__hover_enabled="on" button_letter_spacing__hover="0″ button_one_letter_spacing__hover_enabled="off" button_one_letter_spacing__hover="null" button_two_letter_spacing__hover_enabled="off" button_two_letter_spacing__hover="null" button_bg_color__hover_enabled="off" button_bg_color__hover="null" button_one_bg_color__hover_enabled="off" button_one_bg_color__hover="null" button_two_bg_color__hover_enabled="off" button_two_bg_color__hover="null" /][/et_pb_column][/et_pb_row][/et_pb_section]